augmented reality Installation, Video
IN TOUCH
in touch
Je. Jesch, 2022
Poster "skin" 120x200com
Poster "face" 180x200cm
Videos ca. 1 min
Installation im öffentlichen Raum 10.-31- März 2022
Jörgerstraße 56-58, 1170 Wien
mit freundlicher Unterstrützung des Bezirk Hernals
isolated bodies
behind glaring screens
connected Isolation
within private walls
Die augmented Reality Video Installation
"
sk.in
touch" an der Fassade des Sandkasten Syndikats, thematisiert die Einsamkeit hinter gläsernen Displays. Auf der Suche nach haptischer Sinneserfahrung im digitalen Medienkonsum,
finden sich mit den richtigen Mitteln Berührungs-punkte am (Touch)Screen.
Plakate dienen als virtuelle Schnittstelle und analoges Portal, das hinter die Fassade des Hauses, in unerwartet intime Privatsphäre blicken lässt.
Benötigte App zur Ansicht der augmented
Reality Variante am Smartphone: Artivive (erhältlich im Google Play- und Apple Store)
---
The augmented Reality Video Installation "sk.in touch" on the storefront of Sandkasten Syndikat, is centered around the topic of loneliness behind screens. Searching for haptic sensory experience within digital mediaconsumerism, points of contact are to be found on the (Touch)Screen.
Posters function as an analog portal and digital interface and enable us to take a look behind the walls into unexpected privacy with the help of a
smartphone.
To watch the videos in augmented Reality
Version on your smartphone, please download the Artivive App on Google Play, or Apple Store


all images © by Jeannine Jesch

---
---
Performance | Video | Installation | Sculpture
TRIANGLE SERIES: GATE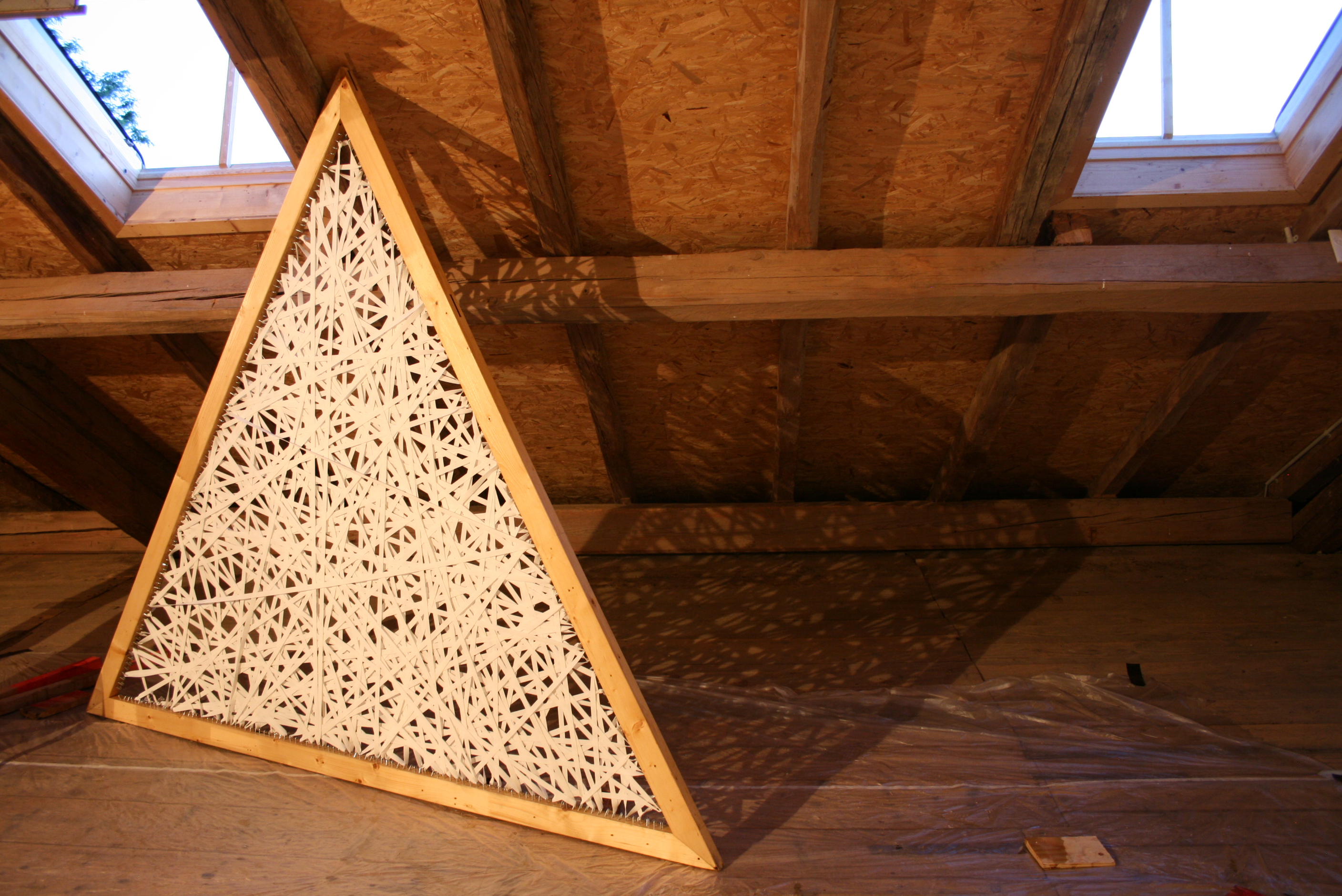 Performance, Sculpture & Video:
Jeannine Jesch, 2016
Production kindly supported by
Plattform für junge Kunst
premiere public presentation 2017 at Gallery Bäckerstrasse4, Vienna
Technical requirements:
Projector, Laptop, Sound System
Sculpture (wood, rubber bands, eyelets, metal bracets)
The video (mapping of the performance)
is available as a limited edition.
The Installation "GATE" features an approximately 10-15 mins Video Loop of a performance that was made with the sculpture and is projected onto the triangular object "Gate".
The frame is made of a wooden triangle with a side length of 2,4 meter and a height of about 1,8m. Inside of this frame there is a chaotic net of thumb-broad rubber elastics, about 300m of elastics in total, that work as a screen for the video installation.
In the video the artist and performer moves through the sculpture whereas limbs appear and dissapear on the surface. The performance was filmed and is projected onto the sculpture again.
The sculpture can be screwed to the floor and is thereas able to stand in the midst of a room or can be as well hung at a wall like a picture or installed lying on the floor for the presentation.
watch video trailer on vimeo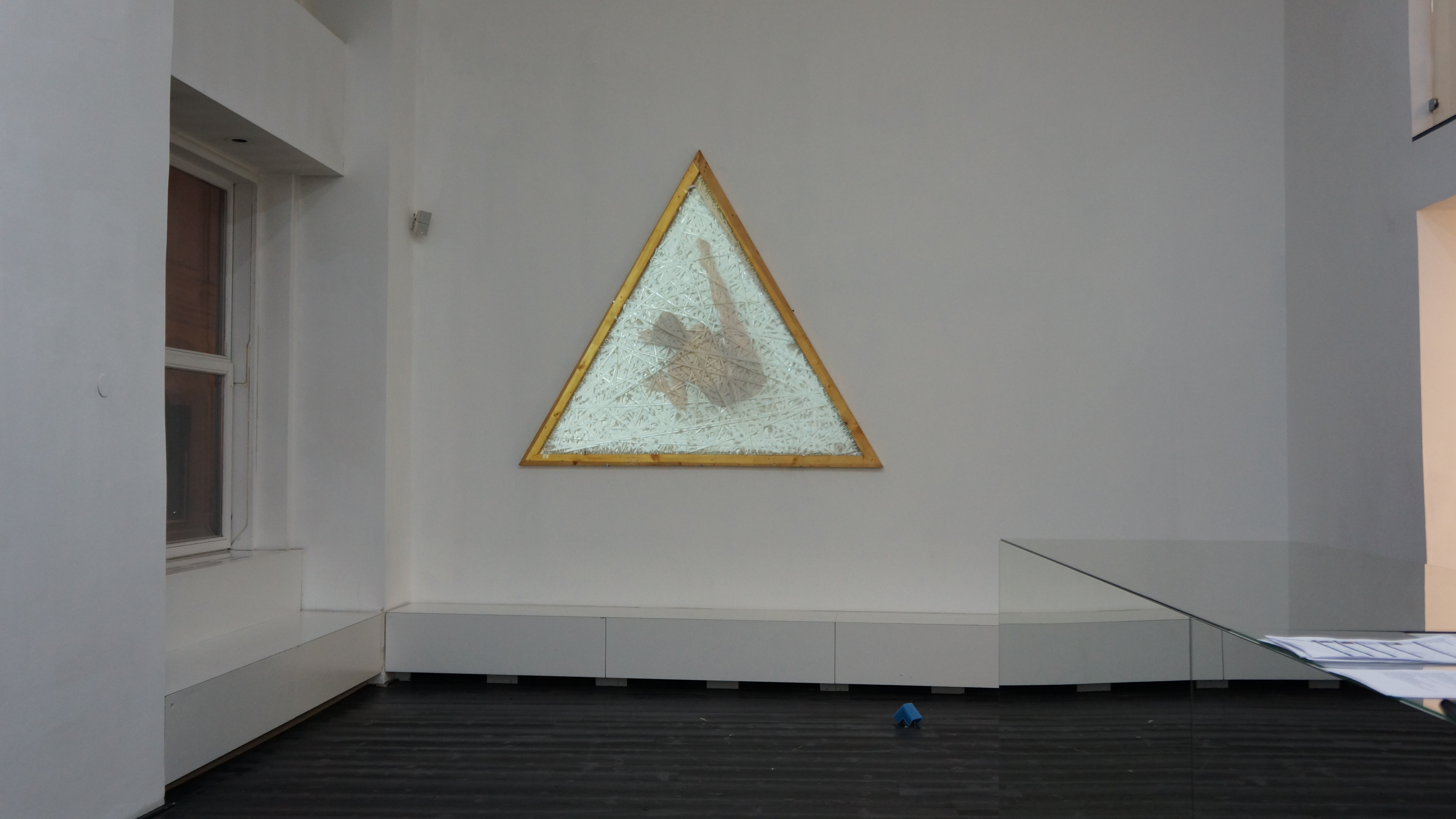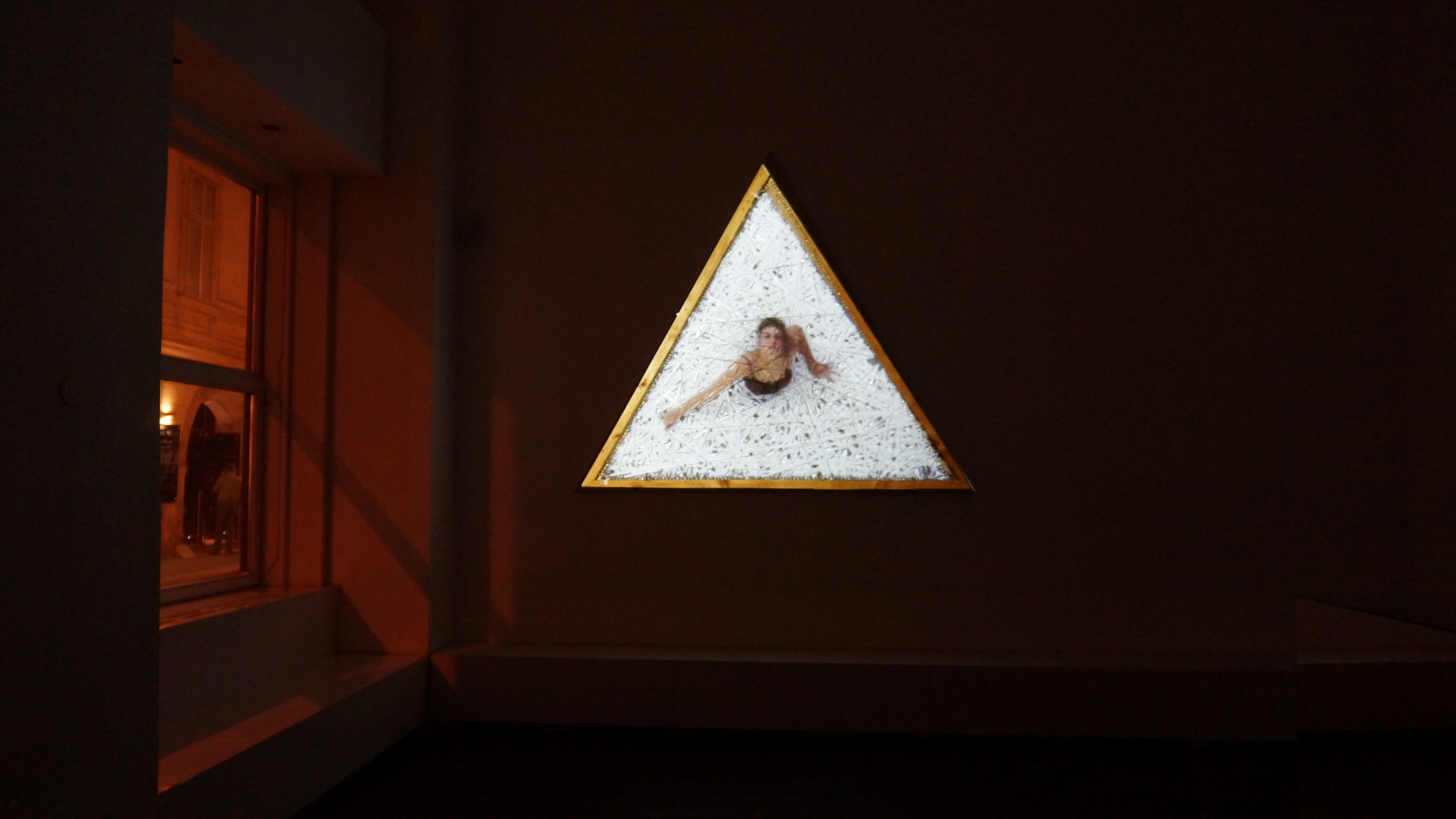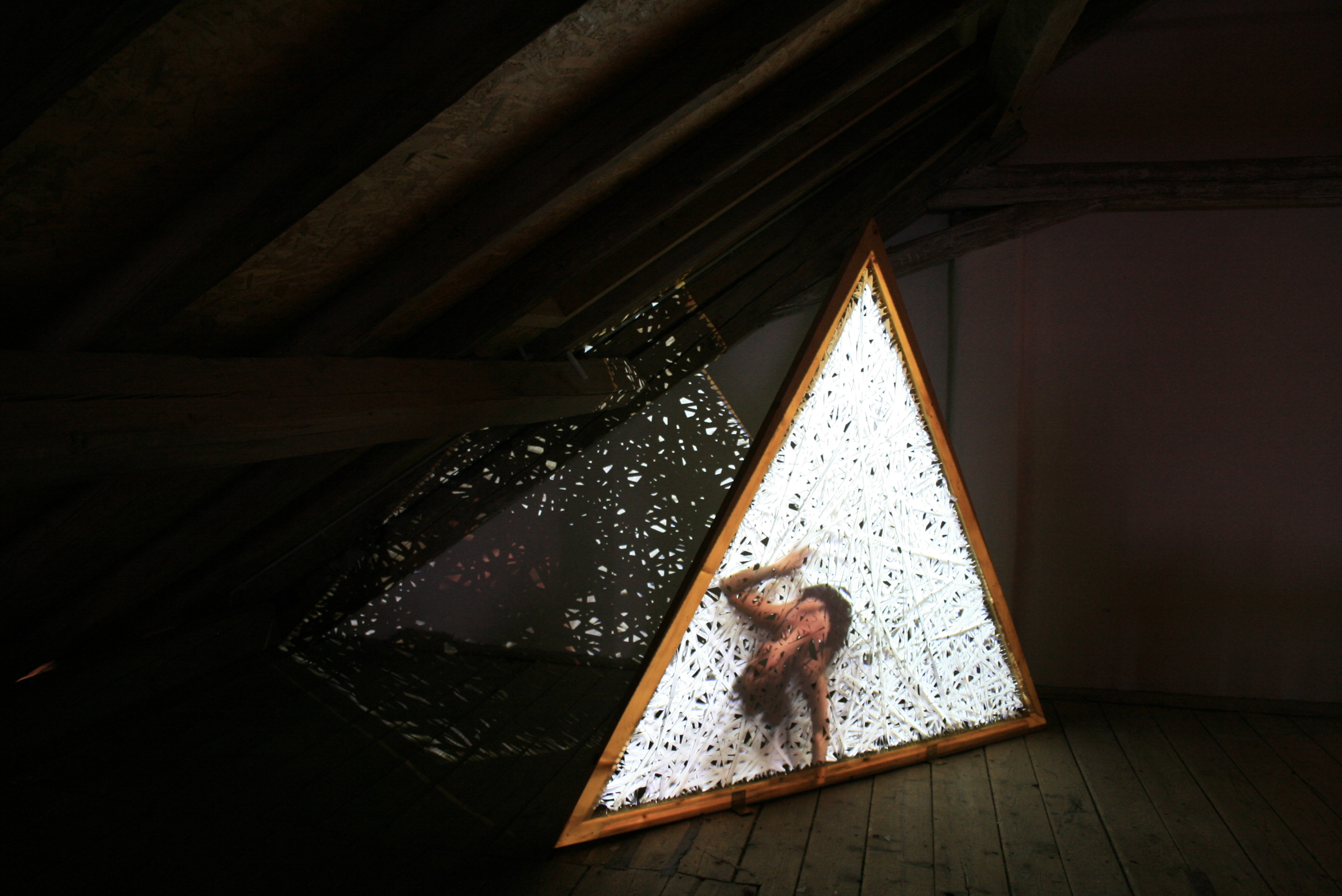 all images © Jeannine Jesch

---
TRIANGLE SERIES: GRIND
kinetic Sculpture:
Jeannine Jesch, 2016
Production kindly supported by
Plattform für junge Kunst
premiere public presentation 2019 at Gallery Dessous, Vienna
wooden sculpture 2,4m width | 1,8m height
3D-printed Gears, stepper motor, Arduino
Hand-woven black&white Band
The kinetic sculpture "GRIND" is driven by a stepper-motor which is audible far before the sculpture is seen. It rotates a hand-woven, black&white band which has the letters WTF written in 8-bit code on it. This band was made during the "
urban MSG
" Series. The band rotates with a loud and grinding noise slowly turn after turn. It is the only sculpture from the Triangle Series where the "performance" is done by a machine.
watch video trailer on vimeo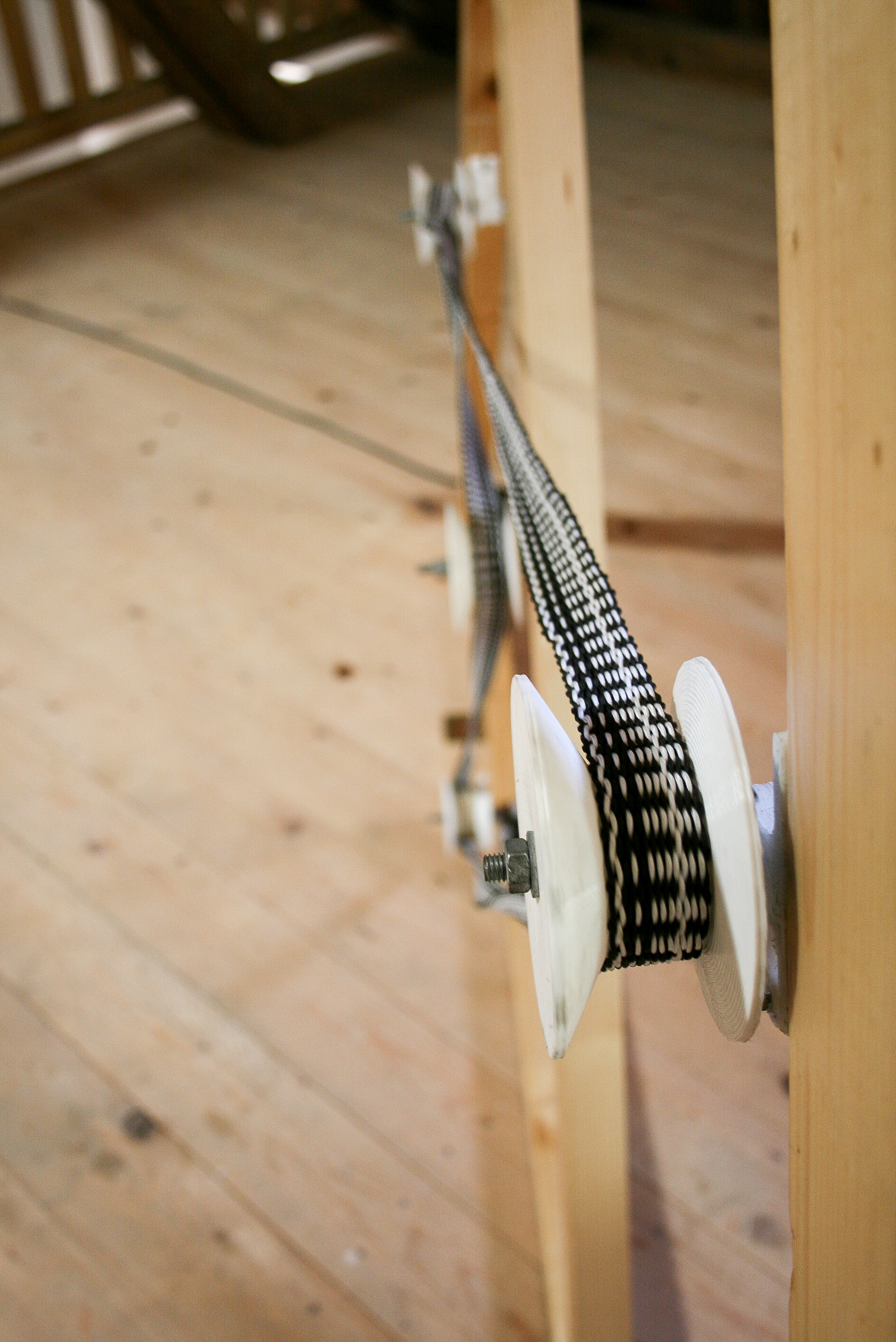 all images © Jeannine Jesch

---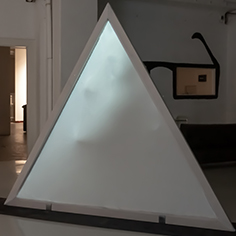 Performance | Video | Installation | Sculpture
TRIANGLE SERIES: GHOST



The Installation "GHOST" features a Video Loop of a performance that was made with the sculpture and is projected onto the triangular object "GHOST".

The sculpture is used as a canvas that is spanned with an elastic white fabric. In a video performers are pressing faces and limbs against the fabric from the back while the object is illuminated from the side. This transforms the performers bodies in marble statue-like surfaces that are moving.

In an installation setting the performance film is projected onto the sculpture's screen. The object can be screwed to the floor and is thereas able to stand in the midst of a room or can be as well hung at a wall like a picture or installed lying on the floor for the presentation.

Jeannine Jesch, 2019

Performer: Lena Kienzer, Jeannine Jesch

Video made at Dockyard Studio, Vienna

premiere public presentation 2019 at Gallery Dessous, Vienna

wooden frame sidelength 2,4m | height 1,8m

fully covered in a white stretchy fabric

Technical requirements:

Projector, Computer, Sound System

Sculpture (wood, fabrik

all images © Jeannine Jesch

---
CONTORTION
A sculpture series based on the margins of allure and with an almost necrophile touch. Old and used foam mattresses that have been cut to resemble the human spine are bent and twisted into strange forms using knots and ropes that refernce shibari arts. The softness of the objects and sexual appeal is in harsh contrast to the sturdiness of bone structure and the filthy material and may take the viewer on a journey into human and spiritual abysses.

Je. Jesch, 2020

foam mattress, ropes (acrylic, hemp), cables

all images © Jeannine Jesch

---